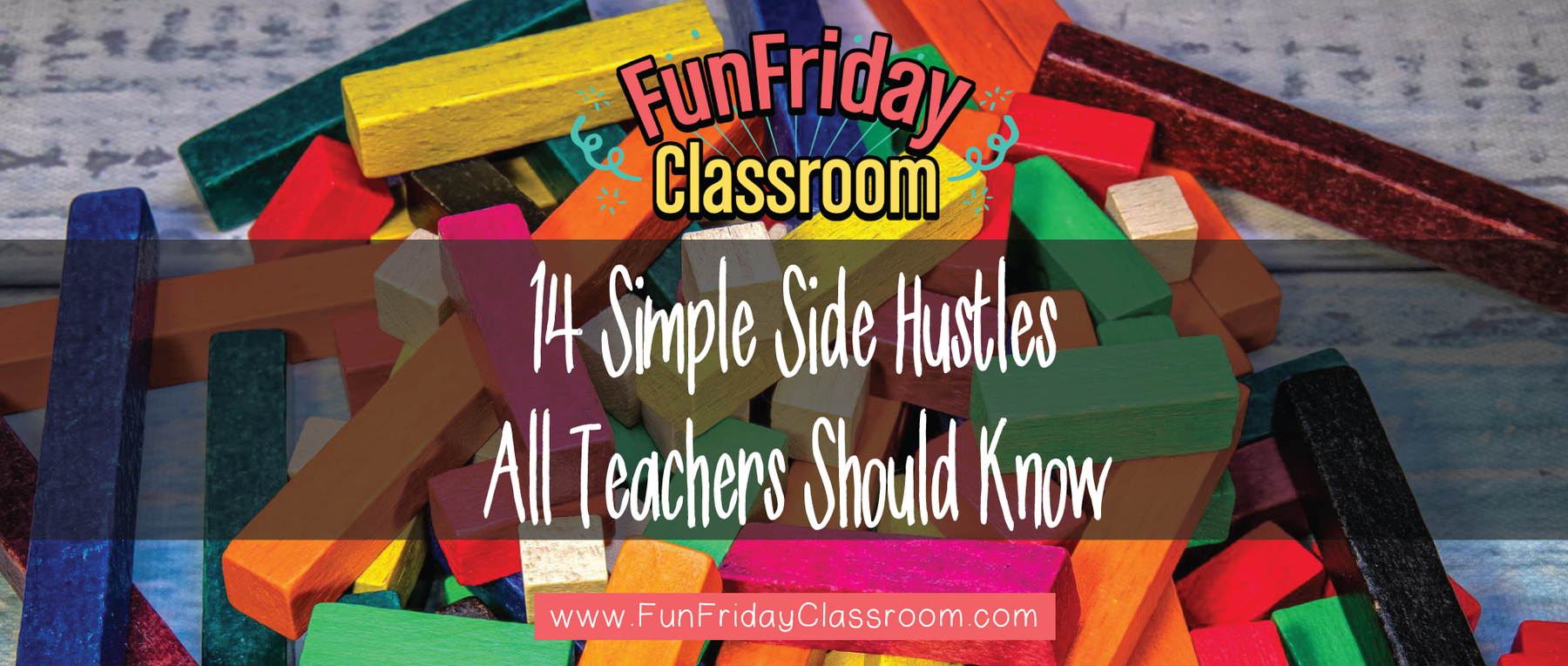 14 Simple Side Hustles All Teachers Should Know
Summer is bittersweet for teachers.

As you usher out all those little humans you've impacted and grown to love this year you also get to refocus and recharge for the upcoming school year.

Maybe you get to relax at home this summer. 

Maybe you have a vacation planned.

Or maybe, like lots of teachers, you're picking up an extra hustle or two to supplement your income until the fall.

Plus, it's always nice to have some extra cash for you or next year's classroom!

There are plenty of flexible options out there for teachers to earn money for the summer that still allow for time spent poolside or relaxing with your family.

1. Transcription 

Transcription is one of the easier gigs to take up with little experience. You just listen, type, and send in your work! 

Rev.com makes transcription work easier to find than ever.

2. Transportation

If you haven't been inside of an Uber or Lyft I'm sure by now you've at least heard of them. If you're living in a metro area you might be able to pick some cash up with a very flexible schedule by giving rides.

3. Shopping

Not comfortable driving around strangers? Shop for them instead! With services like Shipt and InstaCart you can get paid to shop, and you're in control of your schedule.
4. Deliver Food
With the addition of third party delivery services to the line up of modern conveniences there are plenty of opportunity to score some quick tips in your free time. Door Dash and Uber Eats allow you to choose your own deliveries and schedule. Pick a busy Friday night, or just one or two deliveries during the week for some quick and easy extra cash.

5. Teach English Online
Teach when and where you want. Just because it's summer it doesn't mean you can't do what you do best!

VIPKids makes it incredibly easy to teach English from home, but it isn't your only option. 

You should also check out some of the other websites in this article about teaching English from home. 

6. Freelancing Websites

These websites are probably the most flexible of all, depending on your clients and projects.

On websites like Fiverr, UpWork, and Thumbtack, you can get paid from everything from graphic design to ghost writing. The perfect places to pick and choose what you want to be doing this summer!
7. Sell Your Lesson Plans
Speaking of graphic design, you could be selling some of your handy work on Teachers Pay Teachers.

Teachers Pay Teachers accepts all kinds of cool ideas for activities, games, worksheets... you could even modify your lesson plan and sell it online!

8. Review Books
Yes, you read that correctly! It might sound like a deal that's too good to be true, but there are several websites that offer compensation for reading and reviewing their books. 

Kirkus, Any Subject Books, and Online Book Club are just a few.

Bonus: A lot of them will pay for your copy of the book, too!

9. Tutoring

Tutoring is a great way to keep your teaching muscles polished and your pockets lined during the summer months. 

If you don't have a lot of people in your area looking for tutors you can always look into tutoring online with Wyzant.
10. Sell Stock Photos
If you're a shutter bug or otherwise enjoy taking photos you might be interested to know that there are lots of sites online that will buy your photos!

Here's a great article outlining the process and comparing some of the more popular websites people use for selling photos.
11. Start a Photography Business
As a teacher you have a great opportunity to connect with students and parents. I can remember from when I was in school that our journalism teacher also did plenty of students' senior pictures!
12. Start An Etsy Shop
Plenty of teachers are quite artistic, and they can turn that talent into profit on Etsy. 

Candles, jewelry, graphic design files, paintings, you name it! You can find it or sell it on Etsy!
13. Sell Your Arts & Crafts
Summer is prime time for arts and crafts fairs. If you are the crafty type and don't want to bother setting up website or shipping you can fairly easily find a vendor booth at a craft fair or local farmers market to sell your goods.

14. Saving Money
Of course we all also know that saving money is almost as important as making money.
Instead of slashing treats (like Kindergarten Crate) check your account or message the company to see if they have any referral programs. Kindergarten Crate will actually give you THREE free months of boxes if you get only three friends to sign up with your link!

Lots of other companies will offer coupons and discounts as well. All you have to do is ask.

There are opportunities every where to earn extra funds this summer if you're looking!

Not sure what Kindergarten Crate is all about? Quite simply, it's the monthly subscription box that Pre-K, Kindergarten, and First Grade teachers love! 

You can get a jump start on Step 14 with this 10% off coupon code for Kindergarten Crate. 

Just use code HUSTLE at checkout.