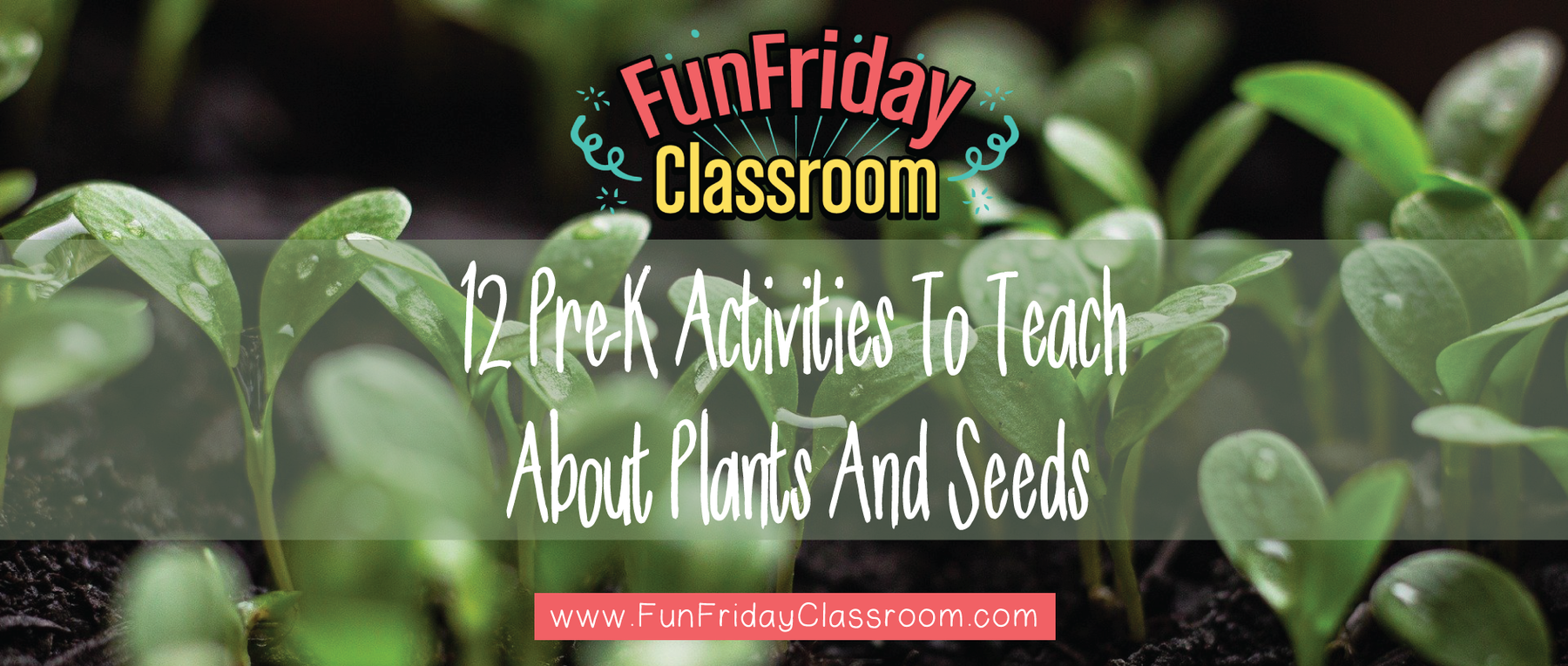 12 Pre-K Activities To Teach About Plants And Seeds
Spring is a wonderful time to teach your students about life cycles. Flowers, bees, vegetables… everywhere you look life is in full swing!
There are of course lots of different ways to explore this with you class, but some of my favorite activities are centered around gardening.
Not only are there plenty of quick growing plants you can grow in your classroom with your kids, but there are lots of opportunities to talk about healthy food and where it comes from.
Your Pre-K kids are going to be so excited to watch plants take root and to see the teeny tiny seeds that their vegetables come from!
Here are some garden centered activities to try with your class!
Growing Grass
https://www.pre-kpages.com/planting-and-growing-grass-in-preschool/
Growing grass is fast and easy which makes it a great choice for a classroom project.
You can have the kids color the cups into faces so they're growing grass "hair" or plant the grass seeds in a simple shape and watch them grow into triangles, squares, etc.
Make a Seed Book

https://www.prekinders.com/make-a-seed-book/
This seed book is a great tool for showing kids where our food comes from. With loose seeds and seed packets inside of the pages the kids can see first hand the tiny little seeds that give way to big foods like watermelons and squash.
Growing Mushrooms
http://sloely.com/growing-mushrooms-with-kids/
Mushrooms are fun alternative to growing beans or sunflowers, and you don't even have to wait until it's getting warm outside! Mushrooms will even grow indoors in the wintertime quite easily.
Not only can you teach about spores in addition to seeds, but your class will be excited to see how quickly the mushrooms grow.
This free flower height measuring activity from Stay at Home Educator is a hands on Spring themed way to teach about measurements and a great addition to any pre-k math center.
Hand Print Tulips
https://funhandprintartblog.com/handprint-flower-garden-craft-kids.html
An easy hand print craft that your students will really enjoy and that parents will love when they come home: hand print tulips!
Add stems, floral stickers, glitter, whatever your kids would like to use. Let their creativity shine!
Garden Themed Sensory Bin



https://www.thekeeperofthememories.com/planting-flowers-sensory-activity-for-preschoolers/
After you've planted your real vegetation and are patiently waiting for it to sprout, let the kids pretend plant in a sensory bin! 
This bin uses black beans, ramekins (to plant in), and some kids gardening tools to practice planting.
Seeds In Our Food



https://preschooltoolkit.com/blog/preschool-science-exploring-seeds/
A potentially tasty activity involving seeds is of course studying the seeds in our food. Some great options for your class to observe (and taste test) are red and green bell peppers, apples, and peaches. 
Try having them match the seeds to the correct vegetable!
Seed Names



https://busyhandsandminds.blogspot.com/2018/04/garden-theme-preschool-play.html?m=1
A wonderfully simple activity to create your students name from seeds! This will help reinforce their letters and name in a fun way, and help them exercise their fine motor skills.
Plant a Number Line



https://www.123homeschool4me.com/plant-number-line-math-game_78
Kids bursting with excitement waiting for the classroom plants to grow?
Keep the plants theme alive with this fun number line activity! All you need are muffin liners, popsicle sticks, and a cardboard tube.
Your kids will love "planting" their number line flowers!
Planting a Rainbow Color Sort



https://www.pre-kpages.com/planting-a-rainbow-color-sort/
Teach kids about vegetables, colors, and sorting, all while working on those scissor skills with this super cute rainbow color sorting activity. Kids will cut and paste different plants onto their colors charts to make a rainbow that looks good enough to eat!


Growing Beans on Cotton Balls
https://theimaginationtree.com/growing-beans-on-cotton-balls/
Beans are always a fun science project. They grow quickly, and inside of their transparent cups your kids can watch the seed sprout into a new bean plant.
Add a little extra science with a simple variable like more or less sunlight, and have your kids make observations.
Van Gogh Sunflowers

https://www.learnplayread.com/van-gogh-sunflowers/
Add a little fine art to your classroom this spring with these Van Gogh inspired sunflower paintings.

Your little artists will have fun making these bright and colorful pictures, just like a the famous artist's works!
Did you know you can learn and share with other amazing primary teachers like yourself in our community on Facebook? Head on over to the Kindergarten Crate Community to join in on the fun!
Kindergarten Crate is a subscription box full of surprises that meet educational standards and line up with what you're teaching your Pre-K, Kindergarten, and 1st Graders!
Check it out, and if you decide to join don't forget to use the code: GARDEN for 10% off your first crate!