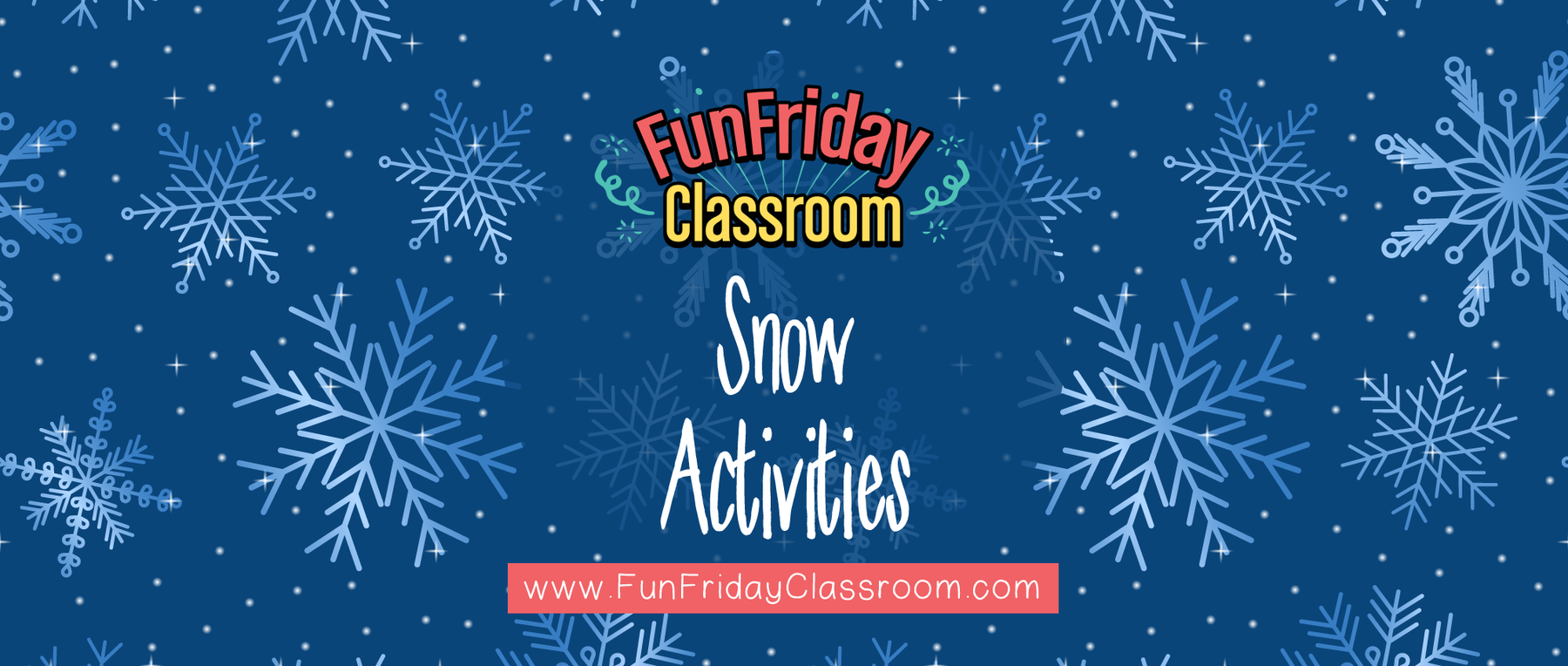 Snowflake Activities
Welcome, welcome winter! No matter where you are in the world, we hope you'll be able to take some time to appreciate the wonderful wintery world full of snowflakes. We believe that a snowflake theme can be used across a variety of academic centers, creating a fun learning environment for your students this season. We hope that you find something that sparks your interest! Snowflake activities listed here can be applied to literacy corners, sensory corners, math, science, and art, too! There's truly something for everyone here. So, bundle up and enjoy the snowflakes!
Literacy
Snowflake Elkonin Boxes  
Are you familiar with elkonin boxes? They are a great literacy option for your readers and writers. A quick google search can help familiarize you, however, each marble represents a sound in the word.
In this activity, students are encouraged to place a flat marble, snowflake eraser or counter at the top of the page. You then pull a card with a word on it. The student pulls a snowflake down as they hear each sound of the word.
You can utilize this great skill along with tons of other wintery resources with our Begin with Book Learning Pack - Pete the Cat Snow Daze. 
Build a Letter
Do you have young learners and readers in your classroom? This next activity is perfect for pre-k and kindergarten students who are looking to create letters.
Each student selects a card and then creates the shape of the letter. They can do this with play-doh, string or wikki-stix. Want to add in some wintery spice? Students can make the letters using snowflake erasers or even some white pom poms! Instant snowy vibes! Check out this fun activity here: Snowflake Literacy Centers!  
Snow Sweeping
This is one of our favorite snowflake activities! Looking for a way to combine literacy and sensory? Well, this one is for you!
First, hide words, letters, or phrases on a tray (laminate to stay dry and reuse). Then, you'll need fake snow. Sprinkle the fake snow on top of the words and have your students "shovel" the snow and find different words. This is a great way of discovering new words with a fun, wintery twist! When each student discovers a new word, have them copy down the newfound word!
Math
For Subtraction Smash, check out our Snowflake Math Centers to access this fun math mat!
Once you have a mat, each student will place play-doh down, pick a card, and smash that amount of play-doh. This is a wonderful way of creating math skills and understanding that is also tangible.
You may choose to keep this activity at desks, math centers, or sensory corners! We love that this activity is easy enough for 1:1, small groups, or the entire class. 
Snowflake Counting
Students can add snowballs to each snowflake. This snowflake activity is great because it can be easily adapted for each student's needs and ability. This is great for young students who are developing math skills and seasoned students who are looking to expand on math skills that they already have.

Snowflake Race to the Top Game
Looking for a fun activity that is also free? Then look no further! 
Looking for a fun way of bringing math into your classroom this season? Go ahead and check out this fun snowflake racing game. This game can be used 1:1, in small groups, or a fun game the whole class can enjoy together. Happy racing!
Science and Sensory 

Grow a Snowflake 
Do you live somewhere that the snow never falls? Well, we have a solution for you! No snow, no problem with this fun snowflake activity! For this activity you will need: borax laundry detergent booster, water, string, scissors, measuring cup, empty container, food coloring (optional), popsicle stick, and pipe cleaners. Full directions are available here, but basically, you will add borax solution in an empty container and fun sparkly pipe cleaners together overnight. The next day your pipe cleaners will have a crystalized effect! How magical!
Snow Sensory Bin
Want to add snow to your sensory bin this season but live somewhere with no snow? S'now problem! We gave got you covered! Fake snow is just as much fun and can be easily made by mixing water. You can add blue flat marbles to add a little more sparkle, too. We hope you and your students enjoy!
Where Do Snowflakes Come From? 
In this educational video, students will learn all about snowflakes and where they come from. This video is hosted by the SciShow Kids and teaches kids through fun graphics and animations! This would be a great video to watch prior to any of the activities mentioned here, too.
Art 
Beaded Snowflakes
For this art activity, you will need beads and pipe cleaners, that's it! We love a good activity that has few pieces! We love how creative this activity is, and how the students will create snowflakes that are as unique and beautiful as everybody in school is. By manipulating the pipe cleaners and adding beads, students will be able to craft many different shapes and sizes. You can choose to cut and glue the pipe cleaners, or simply twist as you'd like. This activity is super flexible.