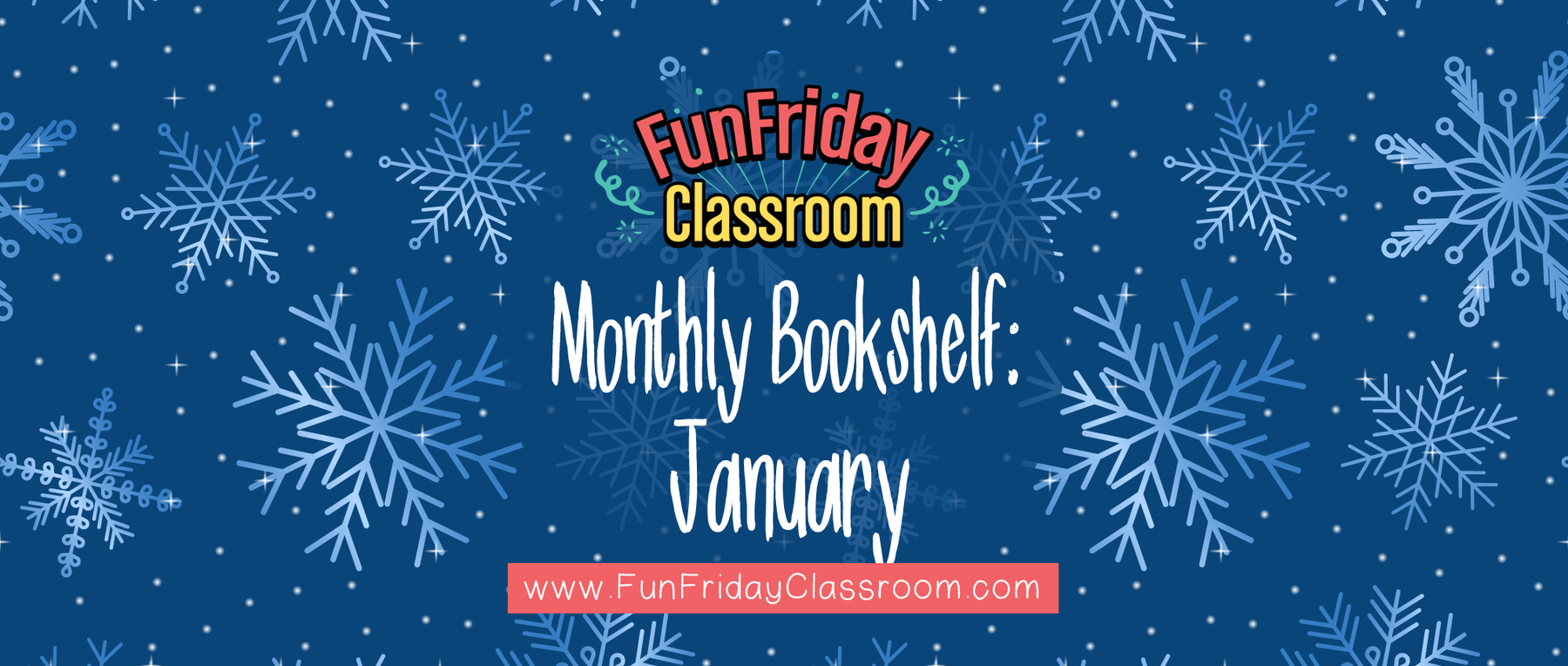 January Kindergarten Bookshelf
Happy New Year! January reminds us of the cold winter wind, snowy and winter themes in full force! We have collected a series of books to bring the winter season alive in your classroom. This month, we hope you'll enjoy and discover books about snow, winter, arctic animals, and Martin Luther King Jr. You'll find a blend of fiction and nonfiction here that is sure to spark the interest of all your students this winter. Enjoy, and happy reading!
New Year's Day:
Shante Keys and the New Year's Peas by Gail Piernas-Davenport 
In
this
delightful
story
,
Sh
ante
Keys
is
determined
to
find
the
biggest
and
best
peas
in
her
neighborhood
to
cook
for
her
family
'
s
New
Year
'
s
Day
dinner
.
Along
the
way
she
meets
some
helpful
neighbors
and
learns
a
valuable
lesson
about
the
importance
of
sharing
. You can get our Begin with Books pack for this Book HERE. 
The Night Before New Year's by Natasha Wing
Follow
along
with
a
family
as
they
prepare
for
New
Year
'
s
Eve
with
a
special
dinner
,
games
,
and
presents
.
This
is
a
great
way
to
introduce
kids
to
the
concept
of
New
Year
'
s
and
all
the
fun
that
comes
with
it
.
Squirrel's New Year's Resolution by Pat Miller
A
 heart
warming
story
about
a
young
squirrel
who
decides
to
make
a
New
Year
's
resolution
to
make
his
life
better
.
With
the
help
of
his
family
and
friends
,
he
sets
out
to
make
his
resolution
come
true
.
Along
the
way
,
he
learns
valuable
lessons
about
friendship
,
happiness
,
and
the
importance
of
setting
and
sticking
to
goals
.
This
delightful
tale
is
sure
to
inspire
any
reader
,
young
or
old
,
and
is
sure
to
be
a
favorite
for
years
to
come
.
You can have students pick their favorite shape. They can trace that shape on a piece of construction paper. Inside each shape they can write their own resolutions for the year!
Snow/Winter:
The Snowy Day by Ezra Jack Keats
The Snowy Day is a beloved classic as far as we are concerned! Join this young child on a snowy exploration through the city! Students of all ages will love the illustrations of a very, very snowy day. You could easily create an entire unit from this one story alone!
Pete the Cat Snow Daze by James Dean
Join the very popular cat, Pete, for a snow day this January! If you're familiar with Pete the Cat, then you already know how delightful these stories are. If you are unfamiliar with Pete, you're in for a real treat! Join Pete out in the snow, because school is cancelled! Is it possible to have too many snow days, though?
How to Catch a Snowman by Adam Wallace and Andy Elkerton
This is a great wintery read for your younger students and early readers! Full of fun illustrations, rhyming, and easy-to-read, students will adore this silly tale about a runaway snowman! It's a cute and easy read that is sure to bring a lot of winter cheer to your classroom this January.
All Right Already! A Snowy Story by Jory John and Benji Davies
Another snow day, and Duck is excited to play out in the snow with Bear, his best friend. But Bear would rather stay inside and not play outside in the snow. This is a funny story about the silly duo who have two very different ideas of how they'd like to spend their snow day.
Sneezy the Snowman by Maureen Wright
Sneezy the Snowman is a great choice for young readers that features adorable pictures and repetition. We love that this story gives readers an idea of the different ways you can warm up on a cold January day! Brrr, enjoy and stay warm!
An easy and cute craft to go along with the book is a melting snowman! This can be done with construction paper, scissors and glue! Start with white construction paper and make a melty puddle. Grab a sheet of black construction paper and make a hat, eyes and stick arms. Orange of course for that carrot nose! Students can pick out any color for scarf and buttons. Students then glue all the pieces to the melty puddle!   
Arctic Animals:
Poles Apart by Jeanne Willis
Perfect for readers as early as two and up, Poles Apart is a sweet and funny book. This book talks all about the way to get home with a humorous twist. Young readers will appreciate the lovely illustrations.
National Geographic Kids Penguins by Jill Esbaum
This nonfiction pick is perfect for students who are interested in learning more about the wonderful world of penguins! National Geographic is a true and trusted source, and National Geographic Kids never disappoints with stunning photography!
Who Lives here? Polar Animals Deborah Hodge
Who Lives Here is a great book that explores many different animals that live in chilly climates. From polar bears to penguins and even arctic foxes, this nonfiction pick is full of information that will keep curious minds thinking as you explore the chilly habitats and creatures of cold lands.
A Day in the Life: Polar Animals Reindeer by Katie Marsico
Similar to the National Geographic pick, this book is sure to capture the interest of your students as they learn all about reindeer! If you are looking for a book that dives into the world of polar animals, this one is for you.
After reading all about reindeers students can make their own reindeer. You can get the free template HERE. After coloring and assembling the reindeer students can write a fact that they learned about reindeers.
Martin Luther King Jr:
I am Martin Luther King Jr by Brad Meltzer
This book on Martin Luther King Jr is perfect for readers ages 5-8, and is a great introduction to the civil rights leader. This biography will give readers a basic understanding of who MLK Jr was and what he was fighting for.
I have a Dream by Martin Luther King Jr
Our favorite of the Martin Luther King Jr books presented here, this book also features an audio CD that perfectly complements the text. Also a Caldecott award winner, as well as starred reviews from School Library Journal and Kirkus Reviews. The beautiful painted illustrations are sure to catch your eye as well as the powerful words of MLK Jr himself.
Martin's Big Words by Doreen Rappaport
This picture book biography is perfect for young readers as well, featuring lovely illustrations that won a Caldecott award, even! There are few words on each page, making this a great book for small groups, individual reading time, or classroom read aloud. We have a Begin with Books learning pack for this book. This resource is always free. Click here to learn more!