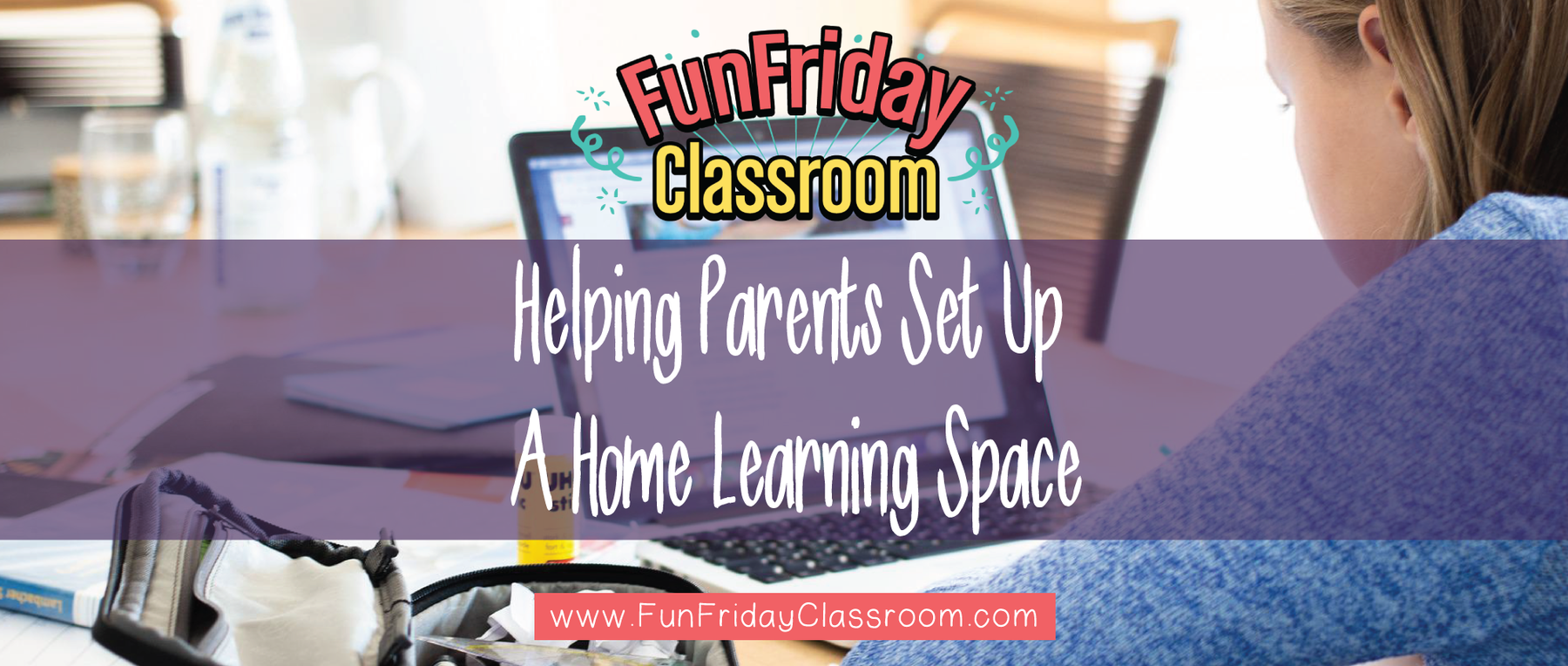 Helping Parents Set Up a Home Learning Space
It is the beginning of the 2020 - 2021 school year, and it looks like nothing we have seen before! Each district is doing things differently, but one thing is the same. E-Learning will be a part of school. This may mean that you start off virtually and enter into the classroom later in the year, or you may start with a hybrid of in person and virtual learning days each week.
Helping our new students and their families adapt to e-Learning sounds daunting. I know! You've got this! Many of the same things you do in person will carry over to elearning. For example, the first few days will be about setting expectations just like you would in the classroom. One way to do that is by helping families set up their child's learning space. 
In our family we have a rising Kindergarten super star. While this is his first year of Kindergarten, it is not his first rodeo when it comes to virtual learning. That's how we finished Pre-K in our house, and I want to share what worked for us so maybe it can help you, too!
Below are tips that we learned through trial and error. It is written from a teacher to parent perspective. Feel free to copy and personalize to send to your students' parents.
Two big changes we implemented to make remote learning successful:
We didn't have a designated spot for the laptop during elearning. The lack of consistency led to chaos more than once. He would have trouble deciding where to work, which led to frustration. Other times, he would get distracted in his room, or try to take the class on a tour of the house while carrying the Chromebook.

We didn't have a designated spot for elearning supplies. We have art supplies EVERYWHERE. My son loves art and our house is covered in art supplies. When the live class did a project, I found myself searching all over for glue at the last minute. 
Tips to a Successful Home Learning Environment
Tip 1: Teamwork Makes The Dream Work!
I'm going to guess that this is not how you pictured your child starting off Kindergarten this year, but a huge part of life is being adaptable. I think you'll be surprised how well your child adapts to e-learning, and whether we're in person or online I am so excited to be your child's teacher!
I promise as your child's teacher to support them and make it work! With teamwork, perseverance, and a positive attitude we can handle whatever is thrown at us to make it a happy and successful year— together.We will all stumble from time to time, but we will also be there to pick each other up. 
Tip 2: Find Your Space 
Consistency with e-Learning is key! Work with your child to pick a space in your home that will be the "school area". This can be at the dining room table, a walk in closet, a desk in the living room, or a bean bag chair in their room. No matter where you decide, make sure that space is used every time live classes are being held. Having your child help pick the space will help build ownership of the area. 
Tip 3: Computer Area
Place the computer away from direct contact from your child. This helps in two ways. When I am teaching and they are following along with their own paper, trying to juggle the paper and computer can be frustrating. Also, having the computer a bit away will prevent accidentally turning off the computer in the middle of a lesson - because buttons are fun to push! 
Tip 4: Supplies
Keep all books, papers and supplies near the learning area. This will prevent your child from getting up and looking for a crayon when we start an assignment together. This will help make class time run smoothly for everyone.     
Tip 5: Have Fun
There will be times when we ask you to read together or explore the outdoors. Take this time to enjoy being together and have fun.