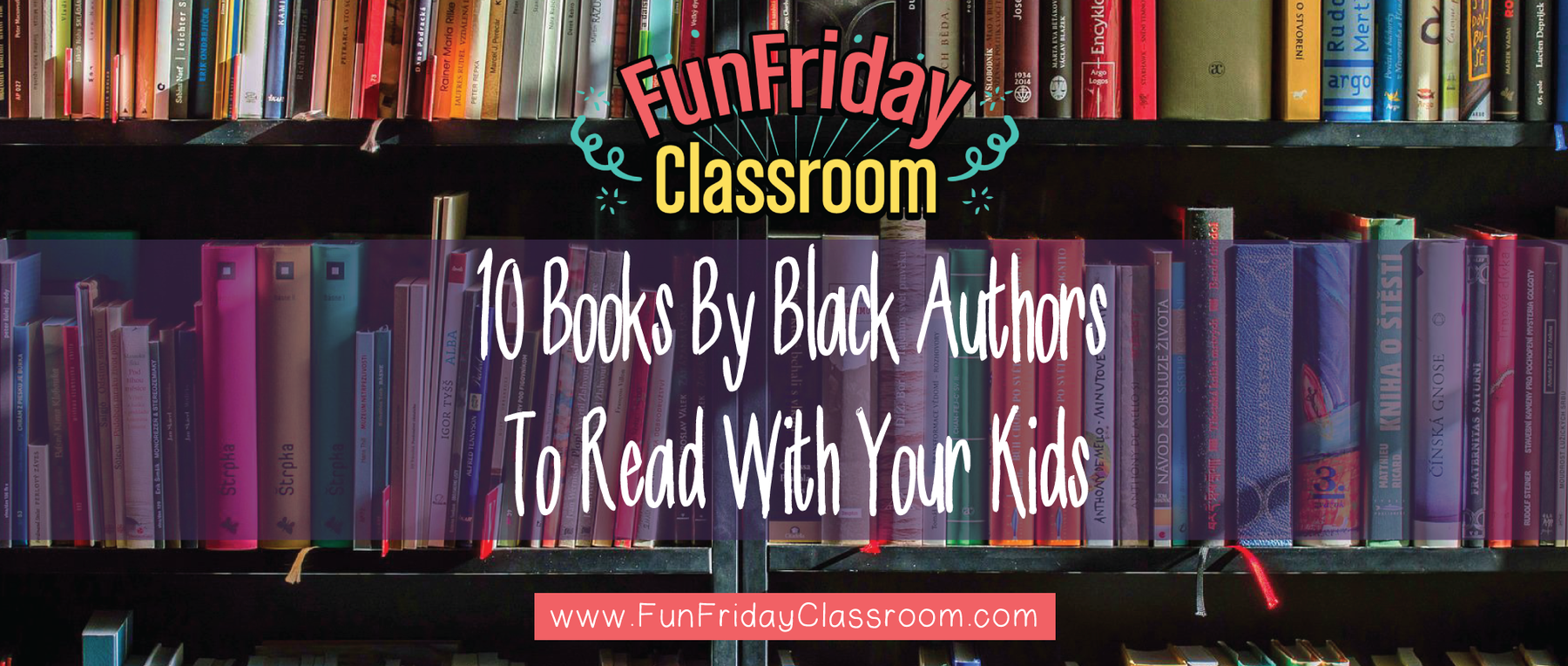 10 Books By Black Authors To Read With Your Kids
Stories help make us human. No matter what kind of story we like best, we've all been entertained, informed, and inspired by a tale at some point in our lives. Maybe the best thing stories have to offer, though, is the chance to see the world from other perspectives. Stories like the ten featured in this list - each by black authors - are a powerful way to combat ignorance and bigotry while sharing humor, suspense, and the special joy of a good story well told...
Little Leaders: Bold Women In Black History & Little Legends: Exceptional Men In Black History by Vashti Harrison and Kwesi Johson
Show young readers what they're capable of with these charmingly illustrated portraits of black men and women who faced countless challenges, but never let anything keep them from chasing their dreams.
https://www.amazon.com/s?k=little+leaders+vashti+harrison&i=stripbooks&ref=nb_sb_noss_2
Miami Jackson Gets It Straight by Patricia and Frederick McKissack, Illustrated by Michael Chesworth
Sometimes the most memorable stories feature everyday problems like the ones faced by Miami Jackson. An excellent starter chapter book for young readers that delivers a relatable experience and subtly teaches readers how we're all a lot alike with a story that's comparable to a fun movie or TV show.
https://www.amazon.com/gp/product/0307265013/ref=as_li_tf_il?ie=UTF8&tag=boorio-20&linkCode=as2&camp=217145&creative=399349&creativeASIN=0307265013
Princess Cupcake Jones and the Queen's Closet, by Yileya Fields
What little girl hasn't played dress up? This charming picture book not only presents a fun story young readers can identify with, but also challenges them to find the special hidden word in each illustration.
https://www.amazon.com/Princess-Cupcake-Jones-Queens-Closet/dp/0990998657/ref=sr_1_1?dchild=1&keywords=princess+cupcake+jones+and+the+queen%27s+closet&qid=1592018102&s=books&sr=1-1
Dancing in the Wings by Debbie Allen
One of the most affecting things about stories is that we all have one of our own. Director-dancer-actress Debbie Allen shares her personal journey in this special book about a girl who dreams of becoming a ballerina… and succeeds. 
https://www.amazon.com/Dancing-Wings-Debbie-Allen/dp/0142501417/ref=sr_1_1?dchild=1&keywords=dancing+in+the+wings+by+debbie+allen&qid=1592018179&s=books&sr=1-1
If I Ran For President, by Catherine Stier
This lighthearted book centers around how anyone can grow up to be president while teaching younger readers about how elections work and what it takes to lead their country.
https://www.amazon.com/If-Ran-President-Catherine-Stier/dp/0807535443/ref=sr_1_1?dchild=1&keywords=if+i+ran+for+president&qid=1592018260&s=books&sr=1-1
Riley Can Be Anything



An inspirational and rhyming book, the Riley as he discovers some of the wonderful things he can do when he grows up. 

https://www.amazon.com/Riley-Can-Anything-Davina-Hamilton/dp/0995700508/ref=sr_1_1?dchild=1&keywords=riley+can+be+anything&qid=1612548908&sr=8-1

I Am Enough
"This gorgeous, lyrical ode to loving who you are, respecting others, and being kind to one another comes from Empire actor and activist Grace Byers and talented newcomer artist Keturah A. Bobo."

https://www.amazon.com/I-Am-Enough-Grace-Byers-ebook/dp/B086JXS83F/ref=sr_1_1?dchild=1&keywords=i+am+enough&qid=1612549015&sr=8-1
Skin Like Mine
""Skin Like Mine" describes young Brittany's courageous journey from self-doubt to self-love and acceptance. Short enough to retain the attention of an 8-year-old child yet impactful enough to inspire a 12-year-old preteen, "Skin Like Mine" will speak to anyone, regardless of race, sex, or ethnicity, who has ever struggled to love the skin they are in!"
https://www.amazon.com/Skin-Like-Mine-Tiffany-Burgess/dp/0997842016/ref=sr_1_8?dchild=1&keywords=skin+like+mine&qid=1612549120&sr=8-8
Its In You

The perfect little book to inspire big dreams!
https://www.amazon.com/Its-You-Book-Big-Dreamers-ebook/dp/B0859PK3S8/ref=sr_1_1?dchild=1&keywords=its+in+you&qid=1612549224&sr=8-1
Peeny Butter Fudge


"There is no one like Nana in the whole wide world. She is the best. Nana knows how to take an ordinary afternoon and make it extra special! Nap time, story time, and playtime are transformed by fairies, dragons, dancing, and pretending -- and then mixing and fixing yummy, yummy fudge just like Nana and Mommy did not so many years ago...."
https://www.amazon.com/Peeny-Butter-Fudge-Toni-Morrison/dp/1416983325/ref=sr_1_3?crid=1A8K28Q17BF7K&dchild=1&keywords=peeny+butter+fudge&qid=1612549335&sprefix=peeny+butter+%2Caps%2C514&sr=8-3
For other great book ideas for your kids' classroom checkout the
Kindergarten Crate
subscription box! 
Not sure what Kindergarten Crate is? You can head to
www.kindergartencrate.com
for more information, 
and
if you use the code: BOOKS you'll receive 10% off your first order.
At Kindergarten Crate we are working hard to bring more diversity in the classroom by including Black authors and other authors of color in our boxes to bring more visibility and viewpoints to the classroom.
We hope you and your family find something you can enjoy together in this list and are encouraged to venture outside your reading comfort zone for even more amazing stories told in different voices by different people from different worlds. Tell us what you find!