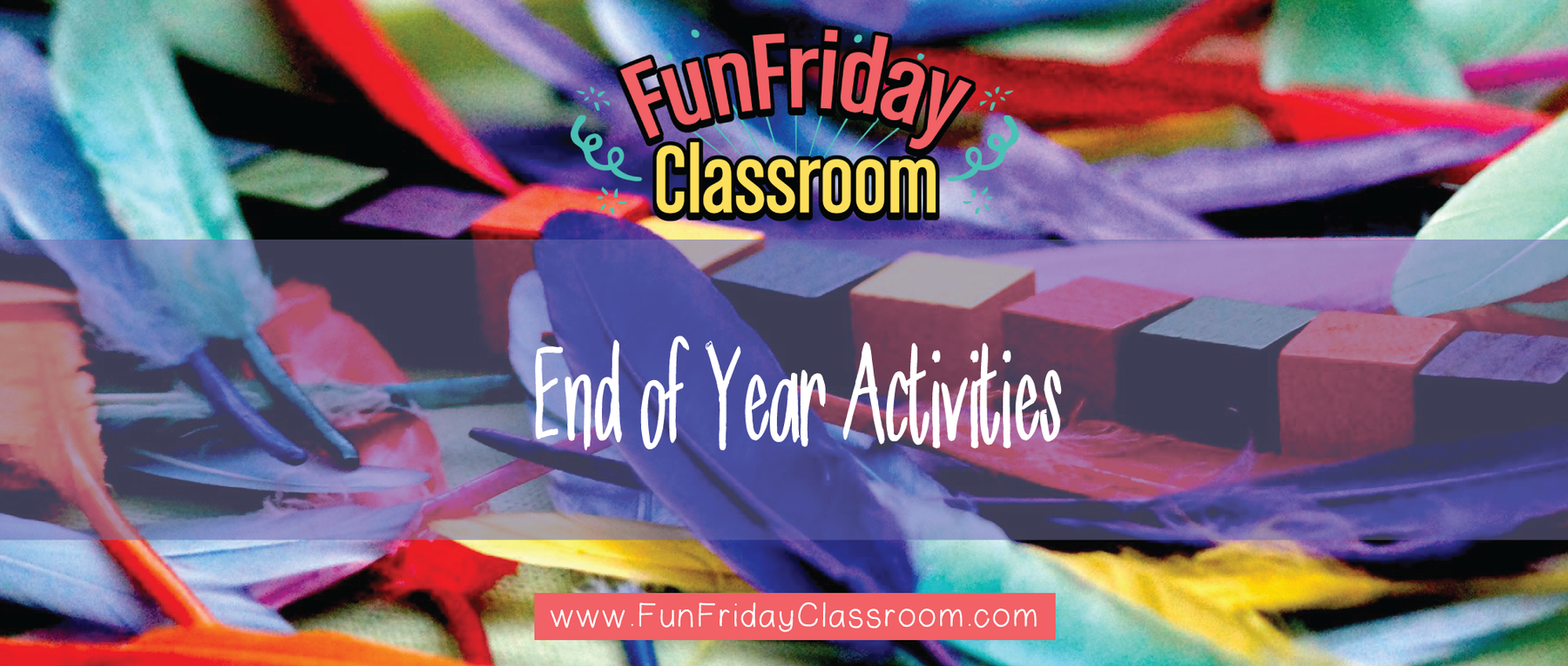 End of Year Activities
The end of the year can be hectic, but oh boy, is it fun!

All those kiddos definitely are full of excited summer-is-coming-energy, and I know teachers feel that itch, too! 

To make it a bit less chaotic I rounded up some end of year fun for you.

Here are some fun ideas to enjoy the end of the year with your class!
Theme Days



Beach Day!  If you can't really go to the beach, do the next best thing- take the beach to your class!
https://www.sailingintosecond.com/classroom-beach-day/


You could also bring your little adventurers a cute camping day. Add some s'mores themed treats and it's a guaranteed hit.
https://primaryplayground.net/literacy-snack-idea-camping-free-printable/

Memory Books

Of course, memory books! As versatile as their tiny creators, memory books are a fun way to collect memories for your kiddos.

You could buy a pre-made book to print, mix and match worksheets, or even start with blank notebooks.


AK Teacher Life has a cute complete memory book you should peek at if you'd like to just print and pass.

https://www.akteacherlife.com/end-of-the-year-memory-book-free-printables/



If you're more the mix and match type, Whimsy Workshop Teaching has some great pages to choose from: 
https://whimsyworkshopteaching.com/ideas/end-year-ideas/ 
Another cute and free option from Easy Peasy and Fun!
https://www.easypeasyandfun.com/end-of-year-memory-book/



https://www.teacherspayteachers.com/Product/End-of-Year-Activities-Free-2526305?epik=dj0yJnU9b3lJZGRrU1lHS1hQNjhlR25UQ21CZlhTQndMeEJyb0EmcD0wJm49YmxSOTlMdDkzY3ZHYXo3eTJGMWdhQSZ0PUFBQUFBR0NkT0Uw


Have FUN!

The end of the year is such a great time to squeeze in some extra fun and make big memories that can last a lifetime. Checkout some of these games to get the giggles going!


Simply Kinder has a few seven minute games that can quickly boost the fun level in your class!
https://www.simplykinder.com/?s=7+minute 
Add a sight word beach ball to beach day for a fast and fun (and low prep) activity.
http://www.thehappyteacher.co/2014/06/have-ball-this-summer.html?m=1 
Our friends at Pocket of Preschool always have some great ideas. Here's a link to some of the most popular end of year ideas.
https://pocketofpreschool.com/end-of-year#more
No matter how you choose to send of your students this year, I hope you all have a wonderful time. You surely deserve it after this year!

Happy Summer, Teachers!