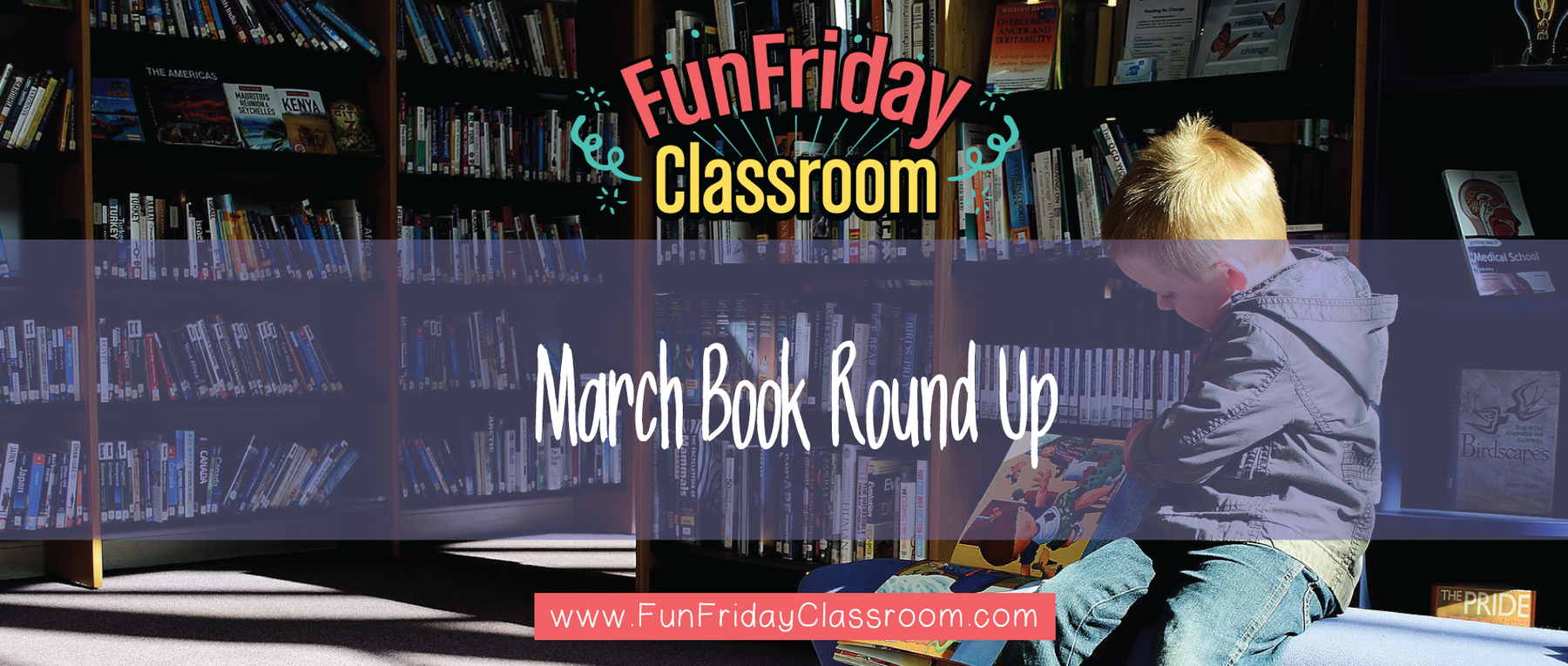 March Book Round Up
Can you smell it? It's almost spring! Which means, it must be March, one of my favorite months!
Why?
Because March is reading month!

Here are this month's selections, straight from my bookshelves:
Reading Month Books
Tiara's Hat Parade
Library Lion
Splat the Cat
The Late Library Book
Bats at the Library

The National Education Association's Read Across America program encourages kids to read and grow together with 12 months of recommended books, authors, and teaching resources that promote diversity and inclusion. You can check out their read along calendar for 2020/2021 on their website.
The NEA has a fantastic read listed for March 2nd: Tiara's Hat Parade. A story about community and family. "When a new store opens that sells cheaper hats, Tiara—and the community she rallies—help revive her mother's hat-making business."


St. Patrick's Day Books

My Lucky Day
How to Catch a Leprechaun
In Like a Lion, Out Like a Lamb
Jamie O'Rourke and the Big Potato
Potato Pants

These books are perfect to read and discuss with your kiddos in class. From uplifting to funny books like My Lucky Day and Potato Pants are sure to be a hit this March.

And lucky you, I've even made a My Lucky Day packet you can grab here:  https://www.teacherspayteachers.com/Product/My-Lucky-Day-Begin-with-Books-Learning-Pack-6619620
International Women's Month Books
Rosie Revere Engineer
I Like Myself
Mae Among the Stars

Empower and inspire the little girls (and the rest of the class!) with some great reads for International Women's Month! 

I, of course, could not resist making a lesson plan for Rosie Revere Engineer. Get yours over at Teachers Pay Teachers.
Weather Themed Books
Cloudy with a Chance of Meatballs
Rainbow
Rainbow of My Own
Kate, Who Tamed the Wind

You can't go through the blustery month of March without taking advantage of that opportunity to use all these wonderful weather themed books! March is notoriously moody with its rains, winds, and unpredictability. 

Your class will love the hilarious book, Cloudy with a Chance of Meatballs, and our friend Mr. Greg over at Kindergarten Smorgasboard has made a wonderfully all encompassing lesson plan with extras for it. Head over and check it out!

May your March be more lamb than lion, teachers!