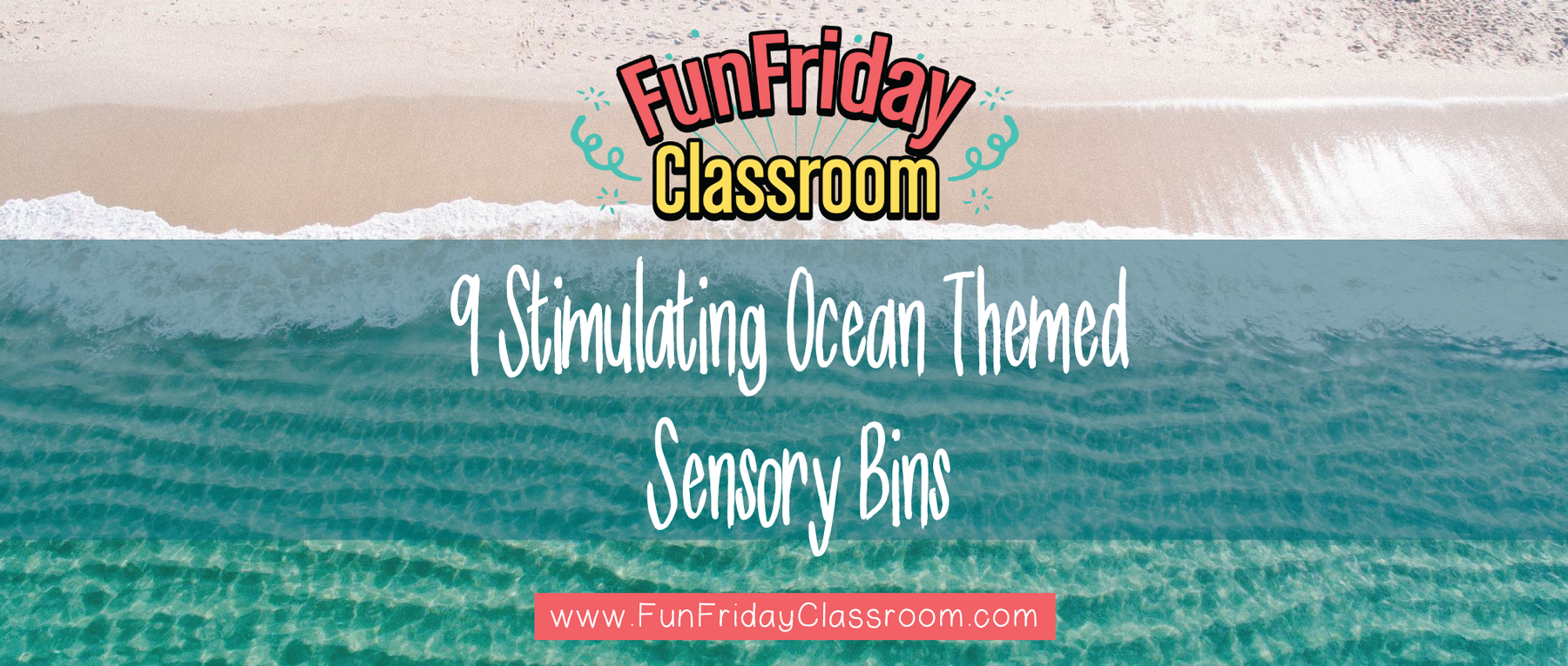 9 Stimulating Ocean Themed Sensory Bins
The weather is finally starting to look like spring and summer outside where I am, and with that comes lots of lovely sunshine and heat.

Which of course makes me think about the beach!

My kids are always excited for sensory activities, and with all this warm weather around the corner what could be more fun for a sensory bin than an ocean theme?

I've got 9 stimulating ocean themed sensory bins to get you excited for your ocean sensory bin!
Ocean Soap Foam Sensory Play
https://viewsfromastepstool.com/ocean-soap-foam-sensory-play/
With only a couple of household ingredients and a few ocean animals you can make this super fun soap foam. Let your kids take turns hiding and finding ocean animals or giving them a bath in a "rinse" bucket.
Sand and Ocean Sensory Bin
https://turnertots.com/2019/02/13/ocean-activities-to-get-our-preschoolers-to-seas-the-day/
These glass beads (which you can grab at the dollar store, yay!) are wonderfully reflective just like the big blue ocean. Combine with some sand and sea animals and you've got an instant class hit.
Water Beads and Sea Animals
https://fun-a-day.com/super-simple-ocean-sensory-bin/?utm_medium=social&utm_source=pinterest&utm_campaign=tailwind_tribes&utm_content=tribes
A super simple sensory bin (say that three times fast!) with just water beads and sea animal figurines will keep your kiddos happily entertained. Let them navigate their sea creatures through all the squishy water beads.
Letter Matching Seashell Sensory Bin
https://www.naturalbeachliving.com/letter-matching-seashell-sensory-bin/
There are lots of ways you could use this letter matching sensory bin. You could have your students find an upper and lowercase of the same letter. For something a little different you could even put enough letters in for your kids to practice making CVC words!
Aquarium Filler Sensory Bin
This ocean bin is inexpensive and quick to throw together. All you need are some ocean toys, blue aquarium filler, and the free matching printable cards included by Fantastic Fun and Learning.
Ocean Sensory Tray With Frozen Rice
https://theimaginationtree.com/ocean-sensory-tray-with-frozen-rice/
Frozen rice is a unique twist on a the classic colored rice sensory bin! Your kiddos will be so excited to feel the cold rice and play with the ocean animals as it gets warmer outside.
Colored Sand
https://maternitycomfortsolutions.com/7-ocean-sensory-bins-for-toddlers/
The simple-but-brightly-colored-sand that's just waiting for your sensory bin. You can't get much closer to the beach than real sand, and it's just the prettiest shade of blue.
Ocean Sensory Bag
https://www.naturalbeachliving.com/ocean-life-sensory-bag/
Not a sensory bin, but a super neat sensory bag. Which means, you could make more than one for small groups or for students at quiet time.
Non-Toxic Edible Kinetic Sand
https://www.survivingateacherssalary.com/edible-non-toxic-sensory-kinetic-sand-recipe-for-kids/
Kinetic sand is a cheap and fun favorite! My kiddos at home will sit and play with it for an hour or more and your students will be just as enthralled.
Plus this recipe is non-toxic and edible!
If you received this month's Kindergarten Crate for kindergarten or first grade then you've already got everything you need for at least one of these bins.

If you don't know what I'm talking about Kindergarten Crate is a monthly subscription box full of activities, a read aloud book, teacher gifts, and more.
Plus, there's this awesome Facebook group that's open to all primary level teachers full of idea sharing, funny stories, and lots of contests!